Glassdoor now offers separate ratings for women and POC
IT can be difficult to recruit top talent with a less-than-stellar review of your operation on 
Glassdoor, the online portal where employees rate their work experiences. Quicken Loans is a highly rated place to work, for example, and people love working there. But if CEO Jay Farner had a problem with that, too bad, Glassdoor won't let employers alter the reviews. Those are the rules.
There is some wiggle room, however. Guaranteed Rate was once called out by the WSJ (metered paywall) for pushing employees to write better reviews, though that wasn't technically against the rules.
But, this wasn't a surprise and almost certainly not limited to Guaranteed Rate, as Glassdoor's company ratings are a powerful weapon in job recruiting, giving companies an incentive to inflate them. Sought-after workers—the site gets about 60 million users per month, according to web-research firm SimilarWeb—read reviews to help determine where they want to work.
Now in an effort to promote diversity, Glassdoor has begun disclosing race and gender data on its employment site, breaking down how women and people of color rank their workplaces as corporate America faces pressure to improve diversity within its ranks.
It will take some time to get a full picture. For example, since Glassdoor began inclusion rankings, Quicken has had 6 reviews, all from Whites. That's an incomplete picture and very likely an inaccurate one. Will possible employees get that? 
Glassdoor the decision is to hold big companies to their promises to meet diversity levels. 
"Since May of last year, almost 90 percent of companies in the S&P 100  — including Walmart, Starbucks and AT&T — have made statements about racial justice following broader social unrest in the wake of the death of George Floyd," according to a Bloomberg tally. 
"Many of those companies have pledged to recruit more Black employees, including at the management level.  Having more demographic information will put pressure on companies to do a better job of meeting those targets, said Andrew Chamberlain, Glassdoor's chief economist."
---
🤣 MEME of the day 🤣
Have a funny meme? Email your favorite meme here for a chance to be featured in our next Rise&Shred.
---
Fannie Mae says economy is about to grow significantly
The U.S. economy is expected to grow 6.7 percent in 2021, an improvement not only from last year's 2.5 percent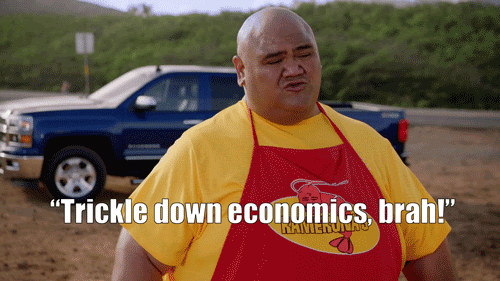 contraction but up, too, compared to last month's forecast of 5.3 percent, according to the February 2021 commentary from the Fannie Mae Economic and Strategic Research Group. 
And what's going to be the driving force that pulls us out of the economic doldrums? HOUSING.
If 2020 was the year of the virus, then 2021 will more than likely be the year of the vaccine," said Doug Duncan, Fannie Mae Senior Vice President and Chief Economist.
[Related report: First American: Housing Market Potential Poised to Grow in 2021]
"Consumer interest in locking-in historically low mortgage rates helped drive continued high volumes of refinancing and aggressive levels of homebuying," Duncan continued. "We believe that this will continue in 2021. We assume that the proposed fiscal stimulus of around $1.7 trillion will be passed in mid-March, and that growth will accelerate sharply beginning in the second quarter."
---
🔥 The Future of eMortgage is Here 🔥 
With Josh Pitts & Joe Puthur
---
Two shout-outs to some AWESOME new developments
Here are some other sweet developments coming out of the mortgage markets.
CoreLogic 
CoreLogic just launched a new digital title and closing solution.
With its new digital Title and Closing Solution, CoreLogic is able to help lenders accelerate their existing title processes by automating dozens of manual steps – delivering a faster, less costly and more reliable origination workflow, the company said.
Traditionally, mortgage lenders have had to manually re-key dozens of separate pieces of property information from PDF copies of title documents prior to closing a loan. Most lenders have paid teams of employees to review these documents and then re-type this title information into their loan origination systems (LOS). These manual processes are time-consuming, subject to data-entry errors and potential security concerns – all of which can delay a borrower's closing date.
Our clients have been blown away by the efficiencies this solution delivers," said Glen Evans, Executive of Collateral Technology Solutions at CoreLogic, in a statement.
FormFree 
FormFree announced its AccountChek 3n1 asset, employment and income verification service now covers 85% of U.S. workers whose employers utilize a payroll processing service, representing over 100 million wage earners.
With 3n1, borrowers authorize payroll providers to electronically share their six most recent paystubs and most recent W-2 with lenders and refresh that documentation within 10 days of the loan closing.
"We hear loud and clear that our lenders and partners are looking for better ways of validating borrower employment and income with the security, accuracy and efficiency of direct-source data at a disruptive price point," said Brent Chandler, CEO at FormFree, in a statement. "As the pioneers of automated asset verification, we will continue to lead the mortgage industry to its fully digital destination, ultimate
---
Spread the Rise&Shred ❤️ and share with a friend