One thing Elon Musk didn't think of before building Texas factory
Well, construction and hiring at the latest Tesla Gigafactory, down in Austin, Texas is underway. 
The automaker plans to produce Model 3, Model Y, Cybertruck, and Tesla Semi at Gigafactory Texas.
Construction started in July 2020, and the automaker plans to achieve 'first completion' in May 2021 with production expected to star
t shortly after.
Tesla also plans to establish battery cell production at the factory and make it an "ecological paradise" open to the public.
So while Tesla's outspoken CEO, Elon Musk starts to bring more workers to the Austin area, he's run into a problem he maynot have considered before picking Austin:
"Urgent need to build more housing in greater Austin area!" Musk tweeted Sunday.
That's something broker and realtor Socar Chatmon-Thomas knows firsthand.
"He is right. We do need more housing in the greater Austin area. It would be awesome if we could snap our finger or wave a wand and then all of the housing is there. But housing takes time," Chatmon-Thomas said.
Sorry, Mr. Musk. This is one problem without an easy solution.
---
🤣 MEME of the day by Actually Agents 🤣
Have a funny meme? Email your favorite meme here for a chance to be featured in our next Rise&Shred.
---
Bank of America says we're getting our finances in order, and talking about it
A couple of Senators have written to the President requesting a fourth round of stimulus checks. If this happens, considering projected improvements in the economy, Rise&Shred believes it will be much more limited in scope, going only to the most vulnerable.
But let's say there is a fourth payment, what would you spend it on? Scientists say they can now engineer personal devices to ward off shark attacks. While still rare, the incidence of shark attacks is steadily rising, the scientists say. So there's an idea, right there.
Even if you don't wish to blow your stimulus money on something vital like a shark-zapping wristwatch, Bank of America reports that 46% of affluent Americans have been getting their financial lives in order during the last year.
"The health crisis has caused many people to take stock of their life priorities and to control what they can during a period of uncertainty," said Aron Levine, President, Preferred and Consumer Banking & Investments at Bank of America. "In addition to getting their finances in order, people are looking ahead at new possibilities, plotting a course for their future and engaging with educational resources and advice that will help them make informed financial decisions and pursue new and exciting goals for themselves and their families."
The survey found that the vast majority of affluent Americans are prioritizing many traditional milestones in life, including owning a car (98%),
owning a home (97%), saving their goal amount for retirement (95%) and paying off credit card debt (94%). In fact, 84% of respondents indicated they plan to achieve or have already achieved one or more financial milestones earlier than their parents – including opening an investing account (54%) and starting to save for retirement (53%). 
Americans are also more open about their financial situation, as well. We have become increasingly comfortable talking aboutchanges to life plans due to financial concerns (72% today vs. 66% 20 years ago) and how market volatility impacts our personal investments (71% today vs. 63% 20 years ago).
When asked about the most prominent threats to their future financial success, respondents across generations cited concern about factors outside of their control, including economic recession (62%), market volatility (55%), rising cost of healthcare (50%), and the continuation of the global health crisis (44%).
---
🔥
Time to scale your business? Are you ready to bring on more employees?
🔥 
With Stacy Catmull & Jacinda Montano
---
Record economic growth expected with record low fear of catching COVID
Hold up.
We read this headline twice: Woman finds out son's bride is her long-lost daughter on their wedding day.
And then, double hold up, this is the start of the article: A woman attending her son's wedding was left in tears after she identified the bride as her long-lost daughter. 
Uh, doesn't that mean her son is the bride's brother? Umm…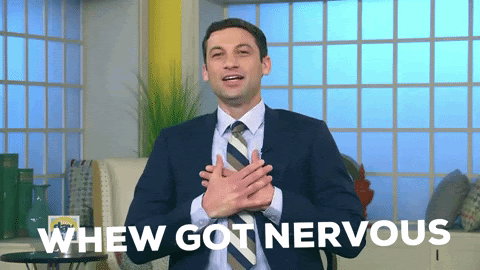 Ok, so we keep reading and found that the groom was himself also adopted and not biologically related to his new wife. That was a close one. 
Americans' satisfaction with the rollout of the COVID-19 vaccine has surged, their concerns about getting the virus and about the availability of coronavirus tests and hospital services/treatment have fallen to record lows.
Thirty-five percent of U.S. adults now say they are very or somewhat worried about contracting COVID-19, the lowest point in Gallup's trend since April 2020. Twenty-two percent of Americans are very or moderately worried about access to hospital services/treatment, and 14% are just as worried about access to COVID-19 tests.
Furthermore, the rollout of COVID-19 vaccines and vast sums of government aid will accelerate global economic growth to a record high this year in a powerful rebound from the pandemic recession, the International Monetary Fund says in its latest forecast.
The 190-country lending agency said Tuesday that it expects the world economy to expand 6% in 2021, up from the 5.5% it had forecast in January. It would be the fastest expansion for the global economy in IMF records dating back to 1980.
---
Spread the Rise&Shred ❤️ and share with a friend