Here are the most common reasons for delayed MLO license approval (in Texas)
Like many states, a new wave of license applicants hit the Texas department Department of Savings and Mortgage Lending over the last two years. 
Presumably, due to the refi boom during the pandemic, more and more people are looking to get in on the action. In Texas, this means a backlog, and then a delay.
In an email to clients from the largest mortgage lawfirm in the state, Polunsky Beitel Green, fewer than 10,000 new license applications were processed for each of the three years from 2017 to 2019. 
But that all changed in the calendar year 2020 when 16,500 new license requests were received. 
At the current pace new license applications for 2021 will exceed 23,000, said Doug Foster, the lawfirm's Director of Regulatory Affairs. 
"This workload increase alone can explain the extended approval times without even considering the thousands of filed amendments and sponsorship change requests," Foster writes.
Foster adds that processing times have been significantly reduced lately to an average of 45 days. 
"Following the renewal season surge, the hope is to continue driving this turnaround time back to the historic average of 15 – 20 days," he said.
Most common reasons for delayed MLO license approval
Mailing address and Residential Address do not match. 

Address listed under the Employment History does not match the address they are linked to under the Registered Location.

Applicant changes Personal Name without uploading supporting documents entered into NMLS

Failure to provide documents in NMLS when the applicant answers "No" to the U.S. Citizen question

Payment for Sponsorship Request or License Request made by ACH payment (10 calendar day hold on  the receipt of the funds.)
---
🤣 MEME of the day 🤣
Have a funny meme? Email your favorite meme here for a chance to be featured in our next Rise&Shred.
---
Here's why Zillow's flips have flopped
Digital real estate marketplace Zillow has been hemorrhaging cash in the home-buying arms race in certain markets, Bloomberg reported on Tuesday, after the company tweaked its algorithm to jack up the bids it offered on real estate.
In August, Zillow raised $450 million from a bond backed by houses it had hired but not yet sold, and CEO Rich Barton said the company was on track to buy 5,000 houses a month by 2024. 
In its second-quarter earnings call, Zillow blew away revenue expectations, yet raised concerns the company's laser focus on explosive growth was coming at the cost of actual profit. 
According to Bloomberg, Barton said the company would be making higher offers to keep up with the pace of the housing market, and it bought more homes than ever in the third quarter.
The market has since cooled somewhat, and in mid-October, the company said it would be pausing purchases as it works through a backlog of inventory. 
Zillow blamed a labor shortage, saying it couldn't hire enough evaluators to inspect homes or contractors to repair them.
In short, Zillow's flips have now flopped.
In some markets like Atlanta, Georgia, and Phoenix, Arizona, Zillow losing money on listings is particularly apparent, Bloomberg wrote. Its 250 active listings in Pheonix are about 6% under market price, which University of Colorado Boulder scholar-in-residence and real estate expert Mike DelPrete told Bloomberg was about $29,000 off for the typical home.
In one example cited by Bloomberg, Zillow outbid competitor Opendoor Technologies for a Phoenix home, placing an offer at $531,300 minus convenience fees. 
Within ten days of the sale closing, Zillow's price had fallen to $505,900, and after that, $494,900. Another example involved a house in Tolleson, Arizona that Zillow bought for $412,000 and sold two weeks later for $387,000, a $25,000 difference.
"Every key metric I've seen from Zillow over the past few months just doesn't make sense," DelPrete told the news agency. "It's like it's making decisions two to three months too late relative to the market."
---
🔥 What every mortgage professional NEEDS to know 🔥
With Josh Pitts
---
Facebook goes META
Facebook is arguably the most popular social media platform for mortgage brokers. For them, Facebook is the Alpha, not the Beta. And now Facebook is the Meta.
And on Thursday, Mark Zuckerberg officially became the CEO and chairman of Meta, the new parent company name for Facebook.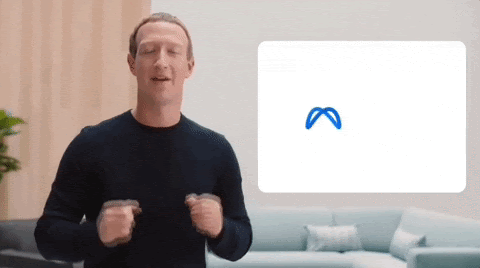 The rebrand is about solidifying the social media giant as being about the metaverse, which Zuckerberg sees as the future of the internet. 
Zuckerberg is staying in control of everything unlike the founders of Google who stepped aside in 2015 when it became part of a holding company called Alphabet, he has no plans to give up the top job.
The rebrand to Meta, announced by Zuckerberg today at the company's annual Connect conference, has been a clandestine affair since he formally kicked off the project just over six months ago. 
The small handful of employees involved had to sign separate nondisclosure agreements, and Zuckerberg refused to tell me the name itself when we spoke the day before Connect. 
He said he had been thinking about rebranding the company ever since he bought Instagram and WhatsApp, in 2012 and 2014, but earlier this year he realized that it was time to make the change.
---
Spread the Rise&Shred ❤️ and share with a friend