REX Homes woes grow, workers hit with another round of layoffs
REX Homes grabbed national attention in March when the residential real estate brokerage filed a lawsuit alleging an antitrust conspiracy between listings giant Zillow and the powerful National Association of Realtors. 
But a judge's ruling forcefully concluded there's little merit to REX's allegations, and denied the brokerage's motion to stop how Zillow is currently listing properties.
Now, things are going from bad to worse for the startup.
REX Homes initiated a second round of layoffs in the past two months has now shut down operations in Chicago and all of New York as part of a company restructuring, and intends on testing out joining local MLSs.
Layoffs are a common part of startup life, and REX Co-Founder, President, and COO, Lynley Sides assured remaining employees in a company-wide call that they are "done with downsizing efforts," which they say they did their best to do "respectfully," and the new goal is to move forward, focusing on the customer experience, on profitable markets, and on "winning" now that the company has "the right plan."
The first round of layoffs was in late August and eliminated roughly 60 positions (a number that has not yet been verified by REX). No severance was paid, but the company offered resume coaching and allowed impacted staff to retain all company technology as a "creative" move, Sides said on the call.
The company has earned several rounds of private equity funding and is not publicly traded. They had not closed their Series D round of funding in August but did shortly thereafter.
---
🤣 MEME of the day by Oscar Armando 🤣
Have a funny meme? Email your favorite meme here for a chance to be featured in our next Rise&Shred.
---
JPM CEO slams bitcoin; More Americans are quitting these jobs
Well, looks like JP Morgan won't join the tiny trend of lenders looking to write mortgages in bitcoin.
And you can say what you want about JPMorgan Chase CEO Jamie Dimon, but he's consistent about his disdain for bitcoin.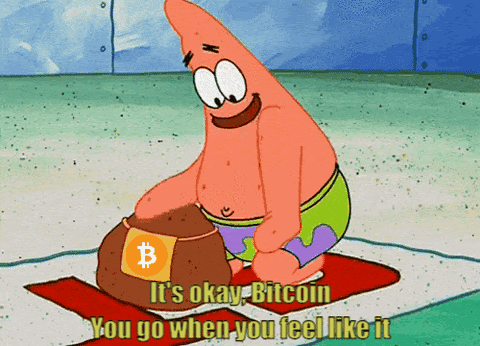 Dimon once again attacked the top cryptocurrency, calling it "worthless" during a virtual summit Monday.
"I personally think bitcoin is worthless, but I don't want to be a spokesperson," he said during a virtual appearance at the Institute of International Finance Meeting before adding, "I don't care, it makes no difference to me. I don't think people should smoke cigarettes."
But Dimon added that his own take on bitcoin has not stopped the bank from allowing its customers to buy and sell the cryptocurrency…even though JPMorgan Chase itself will not hold it.
Job openings declined sharply in August while hiring also fell and the level of workers quitting their jobs hit the highest level since at least late-2000, the Labor Department reported Tuesday.
Bear in mind that "quits" are seen as a level of confidence from workers who feel they are secure in finding employment elsewhere. Workers are leaving the FOOD and RETAIL industries in droves, the numbers say.
Employment vacancies fell to 10.44 million during the month, a drop of 659,000 from July's upwardly revised 11.1 million, according to the department's Job Openings and Labor Turnover Survey. Federal Reserve officials watch the JOLTS report closely for signs of slack in the labor market.
The total fell well short of market expectations for 10.96 million openings, according to FactSet.
The job posting rate as a percentage of the workforce fell to 6.6% in August from 7% in July. That level was just 4.4% a year ago as the economy was still struggling to escape the Covid downturn.
However, quits hit a new series high going back to December 2000, as 4.3 million workers left their jobs. The rate rose to 2.9%, an increase of 242,000 from a month ago.
A total of 892,000 workers in the food service and accommodation industries left their jobs, while 721,000 retail workers left along with 534,000 in health care and social assistance.
Hires declined by 439,000 for a month in which nonfarm payrolls increased by 366,000. The hires rate fell to 4.3% from 4.6%, due largely to a plunge in leisure and hospitality. The sector, which took the hardest pandemic hit, saw hiring decline by 233,000, sending the rate down to 7.9% from 9.5% in July.
---
🔥 Simple Homeownership Solutions 🔥
With Josh Pitts & Ben Miller
---
CFPB's new sheriff means lenders of all sizes should begin to review their fair lending procedures
Rohit Chopra was recently confirmed by the U.S. Senate as the third full-time director of the Consumer Financial Protection Bureau (CFPB) late last month.
Why should we care?
In terms of the broader reaction to the confirmation of incoming Director Chopra, the experience that the former Federal Trade Commissioner has in government and at the Bureau itself could prove beneficial in the internal operations of the CFPB and the entities that regularly interact with it. This is according to Joseph Lynyak III, partner at international law firm Dorsey & Whitney and an expert on regulatory reform and the CFPB.
"Director Chopra brings to the table a wealth of government administrative experience and direct knowledge of the CFPB itself," Lynyak tells Reverse Mortgage Daily. 
"He was present when the CFPB was being organized, and actively participated in senior-level policy development, including enforcement strategy."
Natural questions which arise from Chopra's confirmation tend to revolve around whether or not the Bureau will return to an aggressive enforcement strategy and whether or not the Bureau will focus litigation on larger banks and mortgage lenders or more minor non-bank participants like payday lenders and debt collectors, according to Lynyak.
"In any event, it appears clear that fair lending compliance will once again be a priority, and lenders of all sizes should begin to review their fair lending statistical data and compliance procedures," he adds.
---
Spread the Rise&Shred ❤️ and share with a friend