Your child tax credit is on the way, here's how much you will get
The expanded child tax credit passed last week means some 90% of American families with children will start receiving payments in July.
Click here to ++estimate++ how much you will get and when.
Starting in July, we'll get half of your payments on a monthly basis until December, with the rest arriving when we file your income tax return in 2022.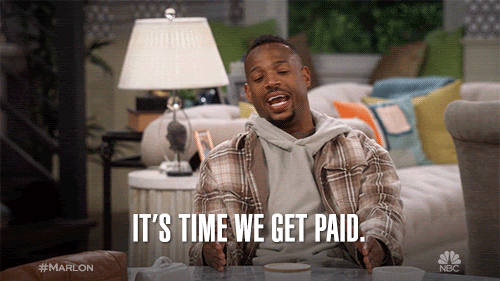 The expansion allows families to receive a $3,000 annual benefit for each child age 6-17 and $3,600 for each child under age 6 for the 2021 tax year. Eighteen-year-olds and full-time college students 24 and younger will qualify for a one-time $500 payment.
Payments will be made monthly in $250 or $300 installments starting July 15 and running through December. The remainder can be claimed as a credit on 2021 taxes when they are filed in 2022.
The IRS is expected to launch two portals by July 1 where you can update direct deposit information and provide banking numbers and another that will let you opt-out of monthly payments in favor of taking the tax credit in 2022.
---
🤣 MEME of the day by Molly Priddy  🤣
Have a funny meme? Email your favorite meme here for a chance to be featured in our next Rise&Shred.
---
United Wholesale just did something Rocket hasn't: launched its own private mortgage bond
The one-upmanship between Rocket and United Wholesale will probably never end. 
According to Inman Handbook on real estate rivalries (paywalled link), the rivalry gets personal too:
"[UWM CEO Mat] Ishbia is an alumnus of Michigan State University (MSU) and was a member of the school's championship basketball team in 2000. The school and its basketball team remain a major part of Ishbia's public persona, and in February he pledged $32 million to MSU's athletic department. 
However, as it turns out, both Rocket founder Dan Gilbert and current CEO Jay Farner are also MSU alums. And just one month after Ishbia's donation, Rocket entered into a sponsorship deal with the school's athletic department. Though value of the deal wasn't disclosed, it means the Rocket branding will be plastered on various athletic facilities, and that the school's basketball team will be announced with the addendum "presented by Rocket Mortgage" — no doubt a bitter pill for Ishbia."
Ouch.
Well, Ishbia's firm is officially doing something that Rocket hasn't: 
launching a private mortgage bond using mortgages usually sold to Fannie or Freddie, as Rise&Shred reported last week.
Kroll Bond Ratings Agency gave the deal high marks, with most tranches rated at A-level.
Here's a snapshot of the deal from Kroll (free with registration):
UWM 2021-1 contains 100% QM (Safe Harbor) conforming mortgage loans, and no loans in this pool are in active forbearance as of the cut-off date. 
UWM Mortgage Trust 2021-1 is a prime RMBS transaction comprised of 508 residential mortgages with an aggregate principal balance of $351.9 million as of the May 1, 2021 cut-off date. The underlying collateral consists entirely of high-balance agency-eligible, fully amortizing, fixed-rate mortgages. The pool is characterized by significant borrower equity in each mortgaged property, as evidenced by the WA original LTV of 64.4% and WA original CLTV of 65.6%. The weighted average original credit score is 761.
---
🔥 Marketplace for Mortgage Professionals
🔥 
With Josh Pitts & Steven Cooley
---
From all around the web, here's the best news we've found!
You can always count on Rise&Shred to keep you up-to-date with emails that can be read in LESS THAN 5 MINUTES!
—> Plenty of mortgage experts quoted in this Forbes piece about how long homeowners should stay in their homes:
People are staying in their homes considerably longer now, reversing the long-standing trend of homeowners selling their starter homes after the first few years to upgrade to a bigger dream house.
The nationwide average for home tenure in the first quarter was about eight years, compared to just four years in 2006, according to data provided by ATTOM Data Solutions. In the West, where home prices outpace the rest of the country, people are hanging onto their homes around five years longer than they were in the mid-2000s.
—> And the same goes for Money.com which is covering the uptick in twice-yearly refi market:
In a year filled with near-constant mortgage rate drops, Barros' story is hardly unique. According to mortgage purchaser Freddie Mac, over 10% of refinances were repeats in 2020 — meaning the borrower refinanced at least twice in a 12-month period.
It was the second-highest repeat rate ever recorded, surpassed only by 2003 when stark rate drops led to a similar waterfall of refinances. Rates were much higher back then, but the mechanics were the same. In 2020, rates started at 3.62%. By year's end, they'd dipped below 2.7%.
—> RealtyTrac, one of the oldest and most established names in the web-based real estate space, is putting "the pedal to the metal," as parent company ATTOM Data Solutions' CEO Rob Barber puts it—and, as is typical for the company, the timing is perfect.
—> Real estate agent ran brothel
And for those who stayed around long enough to get to this part of the email update, here's your reward!
Authorities have arrested a man they say ran two brothels in Miami-Dade County, including one disguised as a spa in a West Kendall business park. The "spa" was located next door to a child day care center.
Almicar Jose Leon, 42, who is also a licensed Florida real estate agent, was jailed late Thursday on over two dozen charges, including money laundering and deriving financial support from prostitution.
Investigators discovered that Leon ran the spa, where at least six women worked in the sex trade. The women advertised on "social media platforms," according to an arrest report by the State Attorney Office's Human Trafficking Task Force.
---
Spread the Rise&Shred ❤️ and share with a friend