Rocket CEO: 8K brokers have rejected United Wholesale Mortgage
Dear Rise&Shred Daily Diary, 
Two of my besties won't stop fighting! I love both of them dearly but can't seem to get them to make up. They both want me to choose, and I don't wanna! What should I do? WAH!
As Rise&Shred has reported in the past, the battle for mortgage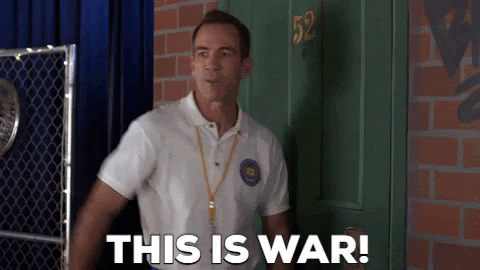 brokers has escalated in an all-out WAR. #BrokerWar And now both sides are celebrating winning battles.
To recap: United Wholesale Mortgage CEO Mat Ishbia said brokers must choose whether they work with his shop or Quicken Loans (and Fairway, too). Both lenders had previously begun offering improved mortgage products to the broker space, up until Ishbia drew a line in the sand.
Now, both CEOs are taking to social media to wage their respective campaigns.
On Twitter, Rocket Companies CEO Jay Farner said: "Great News: Rocket Pro TPO has increased its market share in the weeks since UWM's ultimatum to brokers. More than 8,000 independent brokers have rejected becoming a controlled UWM branch. The results? Volume is up significantly at @rocketprotpo! Thank you partners. #BrokersCan"
Be warned, that @rocketprotpo Twitter channel is also filled with testimonials denouncing UWM. 
For his part, Mat Ishbia is showing a preference for LinkedIn for his communications. In this LinkedIn post, he shares an even greater success story: "RECORD DAY: Yesterday we launched our new Prime Jumbo program and received over $700M in jumbo loan imports! Thank you to our 10K+ brokers who have gone #AllIn with United Wholesale Mortgage and the wholesale channel, and for your commitment to long-term channel growth. #BrokerProud"
*** Runs out of popcorn ***
---
🤣 MEME of the day by The Broke Agent 🤣
Have a funny meme? Email your favorite meme here for a chance to be featured in our next Rise&Shred.
---
CFOs say things are looking brighter
Most Americans are now receiving the stimulus checks approved as part of the $1.9 trillion American Rescue Plan, and some analysts expect people to rush out and spend that money, causing prices to go up for consumer goods and services.
Mix that with the fact the Federal Reserve is planning to stay the course in keeping interest rates low — but that isn't necessarily music to home buyers' ears.
On Wednesday, the Federal Reserve signaled that it won't raise interest rates until 2023 at the earliest, even though some observers have voiced concerns about rising inflation. As of now, seven of the 18 Fed officials expect a rate hike to come in 2023, while four think one could happen next year, according to MarketWatch.
Chief Financial Officers are normally a fairly dour group, especially during a recession. All that tracking cash flow and financial planning as well as analyzing the company's financial strengths and weaknesses can wear you down; it's a tough job but someone has to do it.
However, thanks to Americans having some extra cash to spend, and a favorable environment for lending, CFOs are seeing a brighter future ahead. According to the latest quarterly report from Deloitte, most CFOs see our economic fortunes as improving.
CFOs' perceptions of the North American economy are growing more positive, with 29% citing current conditions as good, compared to 18% the previous quarter. The good news is that just 13% of CFOs consider North America's economy as bad, compared to 26% and 60% in 4Q20 and 3Q20, respectively. Looking 12 months ou
---
🔥 From REALTOR to LO 🔥 
With Josh Pitts & Shannon Burkhart
---
ICYMI: ex-Zillow CEO creates SPAC to acquire rival Offerpad
As reported by Shred Media yesterday, the former Zillow Group CEO Spencer Rascoff is jumping back into the real estate game in a big way.
Rascoff, who left the CEO post at the Seattle real estate juggernaut in February 2019, is part of a group of SPAC investors that's buying Offer pad, a 6-year-old real estate company that competes directly with Zillow Group in a quest to transform how people buy and sell homes.
The 500-person company, which operates in more than 900 cities, said it plans to do about $1.4 billion in revenue this year. It has raised $975 million to date in equity and debt capital.
As a comparison, Zillow Group in the fourth quarter of last year reported revenue of $789 million across its various platforms, with the company's "Homes" segment that includes online buying and selling of homes coming in at $304 million.
Rascoff's SPAC — operating under the name Supernova Partners Acquisition Company — is acquiring Offerpad in a deal that will value the Chandler, Ariz.-based company at $3 billion and bring in an additional $650 million in gross proceeds to a real estate technology provider that powers the quick selling and buying of homes.
---
Spread the Rise&Shred ❤️ and share with a friend